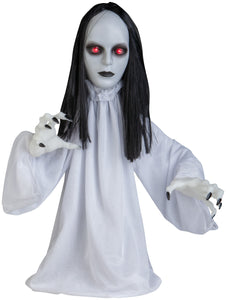 Scare your guests with this creepy goth ghoul. The ghoul lifts its head and makes spooky sounds. It is perfect for parties and haunted houses.
- G-225032
- Dimensions: 23.82 in x 11.02 in x 21.65 in
- For indoor or covered porch use
- Animated: turns side to side
- Lights up
- Sound and motion activated
- Speaks spooky phrases
Price shown is per unit.
Minimum order must be full case pack.
6/case