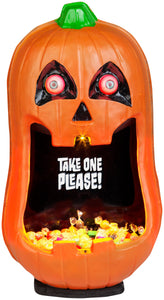 Greet your Halloween guests and visitors with this creepy candy bowl. The Whimsy Jack-O'-Lantern lights up and speaks spooky phrases every time someone reaches for candy. Hang it on your door or place it on a table to delight partygoers and trick-or-treaters!
- G-225027
- Dimensions: 23.82 in x 7.09 in x 13.19 in
- Eyes light up
- Can be hung up or freestanding
- Motion activated 
Price shown is per unit.
Minimum order must be full case pack.
4/case